Skinroller Pro - Dermaroller
Meet our bestseller Skinroller Pro. Our  Skinroller Pro stimulates the skin's production of collagen by creating small microholes in the skin. The skin reacts by repairing itself, resulting in softer, firmer, and smoother skin. The device is especially useful in treating wrinkles and fine lines. Use on both the face and body to restore and reduce skin damage 
Notice up to 200% improvement in your skin 
Treat wrinkles, pigmentation, scars, and cellulite 
A scientifically proven method of skin treatment offering long-lasting results
Shop now, pay next month!
2-5 days shipping with DHL
Meet our bestseller Skinroller Pro. Our  Skinroller Pro stimulates the skin's production of collagen by creating small microholes in the skin. The skin reacts by repairing itself, resulting in softer, firmer, and smoother skin. The device is especially useful in treating wrinkles and fine lines. Use on both the face and body to restore and reduce skin damage 
Notice up to 200% improvement in your skin 
Treat wrinkles, pigmentation, scars, and cellulite 
A scientifically proven method of skin treatment offering long-lasting results
✨20% off your your entire purchase✨
Use code: SKIN20
Skinroller Pro is for anyone looking for a high-quality and safe way to improve their skin. A dermaroller stimulates the skin's production of collagen and helps the skin repair itself by creating tiny micro holes in the skin. The result is a softer, firmer and more even skin, especially effective against wrinkles. The skin roller can be used on both your face and body to regenerate the skin, reduce skin damage and problems from wear and tear. Start your treatment today!
Treat stretch marks, cellulites, scarring, receding hair, wrinkles and more.

Scientifically proven method brought forward by dermatologists with long lasting results.

Combine with a serum for best result.


Why is Skinroller PRO the winner?
Increases absorption by 200%

192 real needles of medical grade steel for safe usage

60 seconds x 1-2 times per week

Scientifically proven method

Stimulates your skin's natural collagen & elastin production

Efficient treatment from home


Easy to use - 3 steps
Move the skin roller in the illustrated movements on a clean face.

Apply a serum or eye cream of your choice on the treated area.

Clean the device with alcohol or cleaning spray after treatment.
Treatment areas
Stretch marks

Cellulites

Scarring

Hair loss

Wrinkles and fine lines

Dry skin

Enlarged pores
Choose your dermaroller with care
Skinroller PRO is made of 192 real and individual needles made of medical steel, instead of metal wheels med 540 needles, which is what most budget versions are made of.
Lowest price during the previous 30 days before discount: €24,90
How To Use Skinroller


Step 1: Cleanse 
Always thoroughly cleanse your face from dirt, grime, and make-up before microneedling. Then
clean your Skinroller PRO with cleaning spray.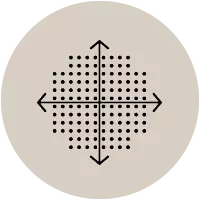 Step 2: Roll
Divide the face into four different treatment areas. Then, lightly roll your Skinroller Pro eight times
across the skin in four different directions.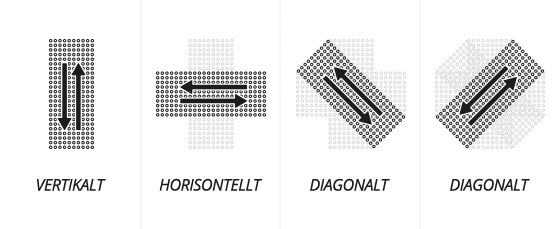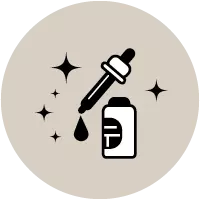 Step 3: Boost
For the best results, apply a serum after microneedling treatment. Follow up with a day or night
cream.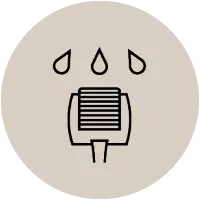 Steg 4: Clean
Thorough cleaning of your Skinroller PRO is essential for successful treatment. Clean your tool with
spray and then allow it to dry in its protective cover.
The lifespan of a Skinroller Pro is 10-12 uses.

Make sure to wear a SPF in direct sunlight.
Common questions
1. What material is the needles made of? 
Skinroller Pro - Dermaroller are made of surgical stainless steel, which is easier to keep hygienic than titanium. 
2. How long will my dermaroller last? 
Our recommendation is to use your Skinroller Pro no more than 12 times. With each use the Skinroller Pro needles will dull and degenerate, you want the sharpest needles possible for the correct action to stimulate new growth

3. Does the roller come with a protective case? 
Yes, it comes in a plastic protective case. When you initially open the roller, it will be in a hygienically sealed wrapping.
4. Can you tell me which roller is best for what kind of treatment? 
Please see the table and descriptions included to the right. 
5. Can I apply Retinol products after I dermaroll?
We do not recommend using most retinol products after dermarolling. You CAN use Skinroller's specially formulated Retinol serum as it's formulated with a mild form of Retinol Palmityte. 
6. Can I use a dermaroller if I have active acne?
You should never do microneedling if you have active acne, cold sores or any raised or patchy skin abnormalities.
7. How long will it take me to see results?
Microneedle therapy is a long-term, cumulative process. Permanent reduction in wrinkles and scars occurs when new collagen and elastin are stimulated, and new skin is generated. You will usually see results within 4 to 8 treatments. 
Size guide
| NEEDLE LENGTH | 0.5 | 1.0 | 1.5 |
| --- | --- | --- | --- |
| Acne scars | ⬤ | ⬤ |   |
| Eczema | ⬤ |   |   |
| Enlarged pores | ⬤ |   |   |
| Face scarring | ⬤ | ⬤ |   |
| Wrinkles | ⬤ |   |   |
| Sun damaged skin | ⬤ |   |   |
| Hair loss & beard growth | ⬤ | ⬤ |   |
| Deeper face scars |   | ⬤ |   |
| Body scars |   | ⬤ |  ⬤ |
| Loose skin |   | ⬤ |   |
| Cellulites |   |   | ⬤ |
| Stretch marks |   |   | ⬤ |
| Hyper pigmentation |  ⬤ |  ⬤ |   |