Met trots presenteren wij onze eerste samenwerking ontwikkeld met een van de meest iconische schoonheidsprofielen in het noorden. De Glow & Go Kit is een limited edition met Kenza's vijf zorgvuldig geselecteerde huidverzorgingsproducten die geschikt zijn voor alle huidtypes
Stijlvolle cosmeticatas "Glow Edition" van Skinroller
Skinroller Pro 0,5 mm brengt uw huidverzorging naar een hoger niveau 
Bestseller Stralende 15% Vitamine C Booster 
Herfst's Nieuwe Glow & Go Sheet Mask  
Levering binnen 1-3 werkdagen met DHL & Budbee
Vandaag kopen, volgende maand betalen!
Met trots presenteren wij onze eerste samenwerking ontwikkeld met een van de meest iconische schoonheidsprofielen in het noorden. De Glow & Go Kit is een limited edition met Kenza's vijf zorgvuldig geselecteerde huidverzorgingsproducten die geschikt zijn voor alle huidtypes
Stijlvolle cosmeticatas "Glow Edition" van Skinroller
Skinroller Pro 0,5 mm brengt uw huidverzorging naar een hoger niveau 
Bestseller Stralende 15% Vitamine C Booster 
Herfst's Nieuwe Glow & Go Sheet Mask  
What products are included in this kit? 
Skinroller Pro - 0.5 mm 
Skinroller is a renowned and acclaimed home beauty tool that helps reduce the appearance of wrinkles, stretch marks, cellulite, scars and has a variety of other uses. The treatment improves the results of your other skincare by up to 200% as the Skinroller opens up tiny micro-channels in the skin that . Skinroller should therefore ideally be combined with a facial serum. 
Renewal Facial Cleanser Hyaluronic Acid 100ml (Value 19.9€ )
Renewal is a moisturizing facial cleanser that contains several anti-inflammatory ingredients that gently deep cleanse the skin of make-up and dirt. With a gentle scent of sea breeze, it also contributes to irresistible hydration that shows in the form of glow and radiance. It effectively but gently works away oil and impurities that your skin is exposed to on a daily basis. Mildly scented. Vegan. 
Renewal Serum Hyaluronic Acid + BHA 30ml (Value 38.9 € kr)
Moisture-boosting serum with the purest form of hyaluronic acid. Hyaluronic acid is the answer for all moisture-starved faces. It moisturises and also acts as a protective barrier between the skin and the outside world to protect from external stresses. The result is a healthy, fresh complexion that radiates well-being and youthfulness. The product is fragrance-free and suitable for even the most sensitive skin types. Vegan. 
Vitamin C Serum Radiant 15% Vitamin C Booster 30ml (Value 38.9 €)
Radiant Vitamin C 15% is a serum for the treatment of acne, fine lines, uneven skin tone and sun damage. Regular use of Vitamin C Serum creates clear and beautiful results, while your skin is hydrated and regains its natural radiance. Suitable for all skin types and can be used both morning and evening. 
Glow & Go Sheet Mask (Value 8.9 €)
Be the first to try our hottest new product Glow & Go Sheet Mask, a luxurious, premium-quality face mask that both moisturises and firms tired, stressed skin. Leaves skin feeling great with a natural glow. Enriched with active ingredients that restore radiance to tired skin, refine the skin's surface and also contains active ingredients to fight ageing.  
- Released exclusively in the "Glow & Go" Limited Edition Kit 
- Gives skin a rich moisture & glowy boost
- Soothes and relaxes stressed and tired skin.
- Provides skin with intense glow and nourishment
- Addictive beauty product  
This also includes
- Hairband to keep your hair out of the way while you perform your skincare routine (Value 59kr)
- Cleansing spray with 75% alcohol for a safe and secure treatment (Value 39kr)
- Stylish and practical cosmetic bag produced in limited edition. In this you can store make-up or your new skin care products from Skinroller. Dimensions 23x16x8 cm
Want to read reviews? Click HERE
Så här använder du Skinroller PRO säkert


Steg 1: 
Tvätta ditt ansikte med din vanliga rengöring. Undvik rengöring med starka syror.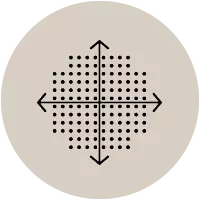 Steg 2: 
Rulla fram och tillbaka med raka drag och ett lagom tryck över önskat behandlingsområde. Rulla Skinroller PRO över din hud ca 8-10 gånger över vardera område. Du ska rulla i fyra riktningar: vertikalt, horisontellt och diagonalt åt båda hållen. (Se bilden nedan). Lyft på Skinroller mellan varje gång! 

Obs: Se till att din Skinroller PRO är ren innan användning.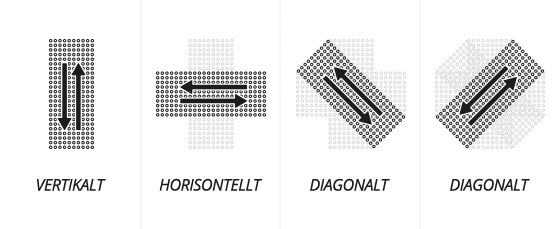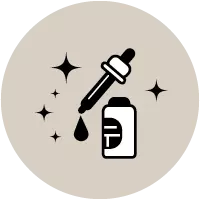 Steg 3:
Applicera valfritt serum efter behov för maximal effekt.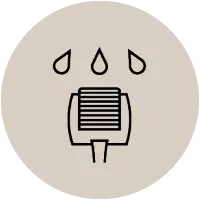 Steg 4: 
Rengör din Skinroller med vår rengöringsspray. Ett annat alternativ är alkohol som finns att köpa på apotek. 

Fem tips för en lyckad behandling

1. Se till att området du ska använda din roller på är noga rengjort och att även rollern är rengjord.

2. Återfukta huden om den är torr. Det kan underlätta när du rollar.

3. Undvik stark sol efter behandlingen. Se alltid till att använda SPF även de dagarna solen inte lyser så starkt. 

4. Se till att dricka mycket vatten de närmaste dagarna. Detta kommer att snabba på läkningsprocessen.

5. Vi rekommenderar starkt att använda ett serum efter behandlingen. Detta då du nu öppnat upp tusentals mikrokanaler in i huden. Detta gör att huden kan absorbera alla de ämnen som finns i olika serum och vitaminkrämer. För optimalt resultat bör du kombinera din behandling med någon form av kräm eller serum lämpat för ditt ändamål.
 
Kies de juiste maat naalden

De Skinroller Pro is geschikt voor de huid van zowel het gezicht als de rest van het lichaam en de naaldjes zijn er in vier verschillende maten: 0,25 mm, 0,5 mm, 1,0 mm, and 1,5 mm.
De Skinroller PRO met naaldjes van 0,25 mm lang is geschikt voor zones met een dunnere huid, zoals de huid rond de ogen.
 
De Skinroller PRO met naaldjes van 0,5 mm lang is geschikt voor de behandeling van acne littekens, eczeem, grote poriën, littekens, pigmentvlekken en rimpels en fijne lijntjes in het gezicht.
De Skinroller PRO met naaldjes van 1,0 mm lang is effectief tegen diepe acne littekens en andere soorten littekens in het gezicht, littekens op het lichaam en lossere huid in de hals en het decolleté.
De Skinroller PRO met naaldjes van 1,5 mm lang is geschikt voor de behandeling van cellulitis en striae, op bijvoorbeeld dijen, billen en buik. Hij werkt ook effectief op de lossere huid op de knieën en ellebogen
Maattabel
|   | 0.5 | 1.0 | 1.5 |
| --- | --- | --- | --- |
| Acne littekens | ⬤ | ⬤ |   |
| Eczeem | ⬤ |   |   |
| Poriën | ⬤ |   |   |
| Littekens in het gezicht | ⬤ | ⬤ |   |
| Rimpels in het gezicht | ⬤ |   |   |
| Zonne- en pigmentvlekken | ⬤ |   |   |
| Haaruitval | ⬤ | ⬤ |   |
| Diepe littekens in het gezicht |   | ⬤ |   |
| Littekens op het lichaam |   | ⬤ |   |
| Losse huid |   | ⬤ |   |
| Cellulite |   |   | ⬤ |
| Striae |   |   | ⬤ |
  

We zijn blij met uw voor en na foto's.


Best verkochte producten
Skinroller in the wild